Artist Panel Discussion: Transmission and Reception | Thursday 23 November
A conversation about carrying forward moderated by Lisa Myers. Featuring Marjorie Beaucage and Jamelie Hassan.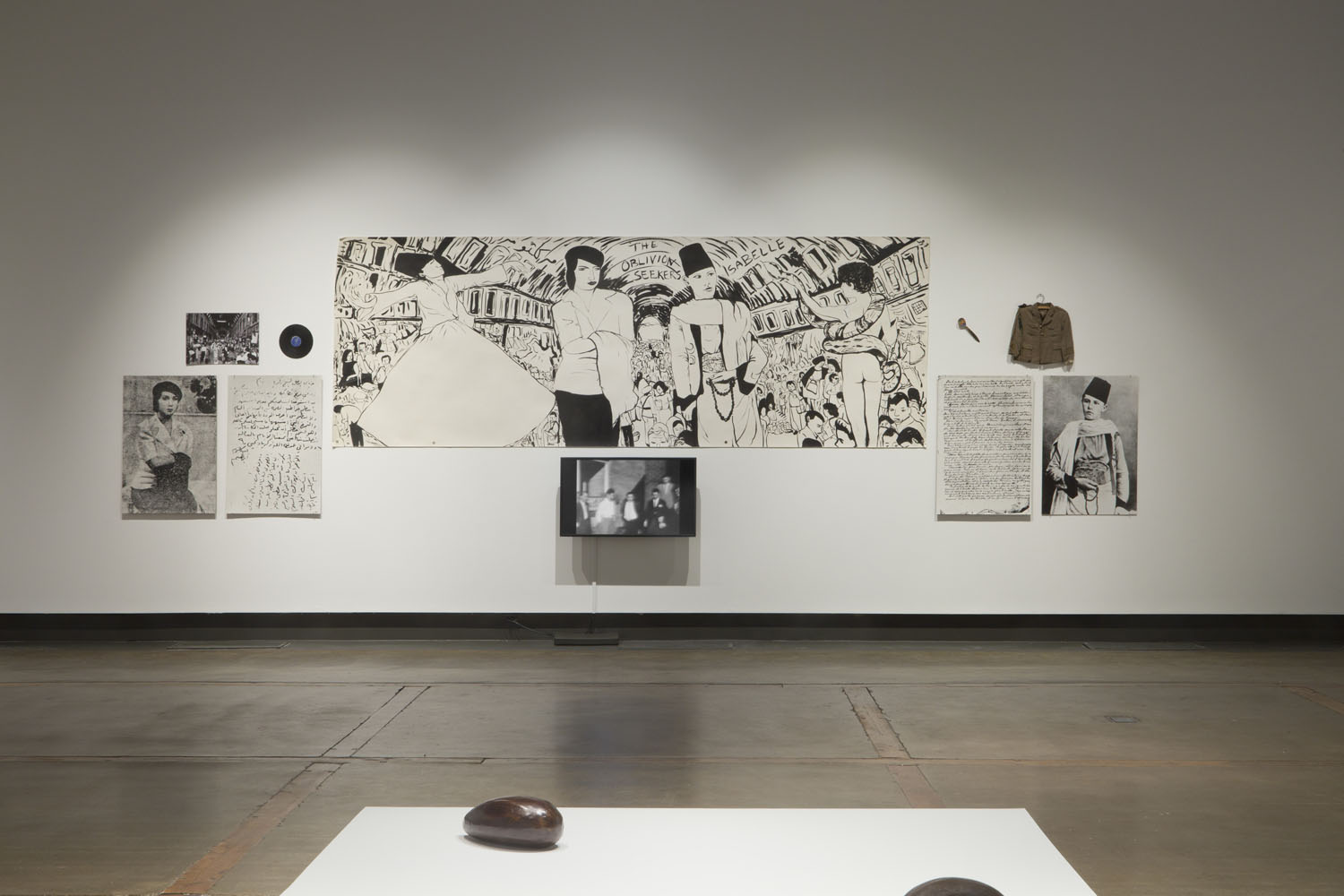 Artists who live and work in the present are often charged with a daunting task: how does one make sense of the past while also speaking to the future? Reflecting on intergenerational knowledge and shared understanding as evidenced in Carry Forward, curator Lisa Myers will join Jamelie Hassan and Marjorie Beaucage for a conversation on how realities are registered, contested, and even fabricated within and beyond their respective practices.
Free admission; everyone is welcome.
Marjorie Beaucage is a Two Spirit Elder, filmmaker, cultural worker, and community-based video activist. Her work as an artist, begun at age 40, builds on skills developed over 25 years as an adult educator and community organizer creating a powerful sense of art making as communal practice. Culture is a collective agreement. Being Métis, she is committed to building cultural bridges between worlds. In 2005, Beaucage created a Medicine Wheel for the Indian Act as a tool for de-colonisation and restoring relations between cultures. Her life work has been about creating social change, working to give people the tools for creating possibilities and right relations. Whether in the classroom, community organizations or the arts, her goal has been to pass on the stories, knowledge and skills that will make a difference for the future.
Born in London, Ontario, of Arabic background, Jamelie Hassan is a visual artist who is also active as a lecturer, writer, and independent curator. She has organized both national and international programs including Orientalism and Ephemera, a national touring exhibition, originally presented at Art Metropole, Toronto and most recently Dar'a/Full Circle for Artcite Inc. Windsor, ON. She was one of the founders of two artist-run centres in London, Ontario: the Forest City Gallery (1973-present) and the Embassy Cultural House (1983-1990). Her work is represented in numerous public collections in Canada and internationally, including the National Gallery of Canada (Ottawa); the Vancouver Art Gallery; and the Library of Alexandria (Alexandria, Egypt). Other recent projects and group exhibitions where her works have been featured include, Here: Contemporary Canadian Art, curated by Swapnaa Tamhane, Aga Khan Museum, Toronto, 2017; Toronto: Tributes + Tributaries, 1971 -1989 group exhibition curated by Wanda Nanibush and Andrew Hunter, Art Gallery of Ontario, Toronto, ON, 2016 – 2017; What Can we do together that we can't do alone? 6th CAFKA, public art project Kitchener City Hall, Kitchener, ON, 2016; In Order to Join: the Political in a Historical Moment, organized by Museum Abteilberg in Monchengladbach, Germany (2013-14) and Mumbai, India in 2015.
Lisa Myers is an independent curator and artist with a keen interest in interdisciplinary collaboration. Her curatorial practice considers different kinds of value placed on elements such as time, sound, memory and knowledge. In addition to curatorial projects based in Toronto, her projects include three touring exhibitions, wnoondwaamin | we hear them (2016); Recast (2014); and Reading the Talk (2014). Myers has an MFA in Criticism and Curatorial practice from OCAD University. In addition to many exhibition publications, her writing has been published in Senses and Society, Public, C Magazine and FUSE Magazine. Myers is based in Toronto and Port Severn, Ontario and is a member of Beausoleil First Nation. She is currently an Assistant Lecturer in the Faculty of Environmental Studies at York University.
Transmission and Reception: A conversation about carrying forward is sponsored by Communitech.

November 23rd, 2017 7:00 PM through 9:00 PM
Download iCalendar entry for this event.
Add event to Google Calendar