KWAG Film Series at KPL | Wednesday 4 December
Free film screenings relating to the themes in our current exhibitions held off-site at KPL Central Library.
The KWAG Film Series is an opportunity to explore documentary films that resonate with the themes of our current exhibitions through free screenings hosted by the Kitchener Public Library at the Central Library (85 Queen Street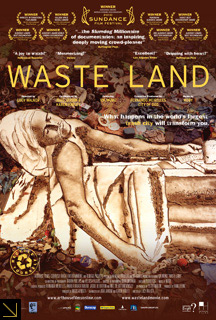 North).
Wednesday 4 December: Waste Land (Dir. Lucy Walker, 2010. 1 hr 40 min)
Waste Land follows artist Vik Muniz on an emotional journey from Jardim Gramacho, the world's largest landfill on the outskirts of Rio De Janeiro, to the heights of international art stardom.
Registration is required for film screenings at the Kitchener Public Library - please visit KPL's website to reserve your seat.
December 4th, 2019 6:30 PM through 8:30 PM
85 Queen Street North




Kitchener

,

ON

N2H 2H1




Canada