Curators Talk: Candice Hopkins & Dylan Robinson | Wednesday 24 June
Join us for an online conversation with the curators of Soundings: An Exhibition in Five Parts
Join us online for an in-depth conversation with Candice Hopkins and Dylan Robinson, the co-curators of Soundings: An Exhibition in Five Parts. Moderated by KWAG Senior Curator Crystal Mowry, this conversation will be hosted on Zoom and simulcast via Facebook Live.
Registration is required to attend the Zoom presentation of this Curators Talk - click here to register.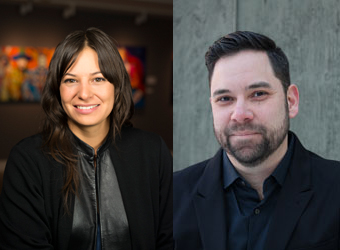 Candice Hopkins is a curator and writer originally from Whitehorse, Yukon. She is Senior Curator of the Toronto Biennial of Art and co-curator of the SITE Santa Fe biennial, Casa Tomada. She was a part of the curatorial team for documenta 14 in Athens, Greece and Kassel, Germany and a co-curator of the major exhibitions Sakahàn: International Indigenous Art, Close Encounters: The Next 500 Years, and the 2014 SITElines biennial, Unsettled Landscapes in Santa Fe, New Mexico. Her writing is published widely and her recent essays and presentations include "Outlawed Social Life" for South as a State of Mind and Sounding the Margins: A Choir of Minor Voices at Small Projects, Tromsø, Norway. She has lectures internationally including at the Witte de With, Tate Modern, Dak'Art Biennale, Artists Space, Tate Britain and the University of British Columbia. She is the recipient of numerous awards including the Hnatyshyn Foundation Award for Curatorial Excellence in Contemporary Art and the 2016 the Prix pour un essai critique sur l'art contemporain by the Foundation Prince Pierre de Monaco. She is a citizen of Carcross/Tagish First Nation.
Dylan Robinson is a xwélméxw artist and writer of Stó:lō descent, and the Canada Research Chair in Indigenous Arts at Queen's University. His current work focuses on the return of Indigenous songs to communities who were prohibited by law to sing them as part of the Indian Act from 1882‒1951. Robinson's previous publications include the edited volumes Music and Modernity Among Indigenous Peoples of North America (2018); Arts of Engagement: Taking Aesthetic Action in and Beyond the Truth and Reconciliation Commission of Canada (2016) and Opera Indigene (2011). His monograph, Hungry Listening, was published earlier this year by Minnesota University Press.


Curators Talks at KWAG are kindly supported by Momentum Developments and Sorbara Law.
Soundings: An Exhibition in Five Parts is a traveling exhibition curated by Candice Hopkins and Dylan Robinson, and organized by Agnes Etherington Art Centre, Queen's University, Canada and Independent Curators International (ICI). The exhibition and tour are made possible, in part, with the generous support from ICI's International Forum and the ICI Board of Trustees. Additional support has been provided by the Social Sciences and Humanities Research Council of Canada, the Canada Council for the Arts' New Chapter Program, the Isabel and Alfred Bader Fund of Bader Philanthropies, the Ontario Arts Council, the City of Kingston Arts Fund through the Kingston Arts Council, and the George Taylor Richardson Memorial Fund at Queen's University.
When
June 24th, 2020 from 7:00 PM to 8:30 PM