KWAG 2 GO
This program is suspended until further notice due to our current Gallery closure.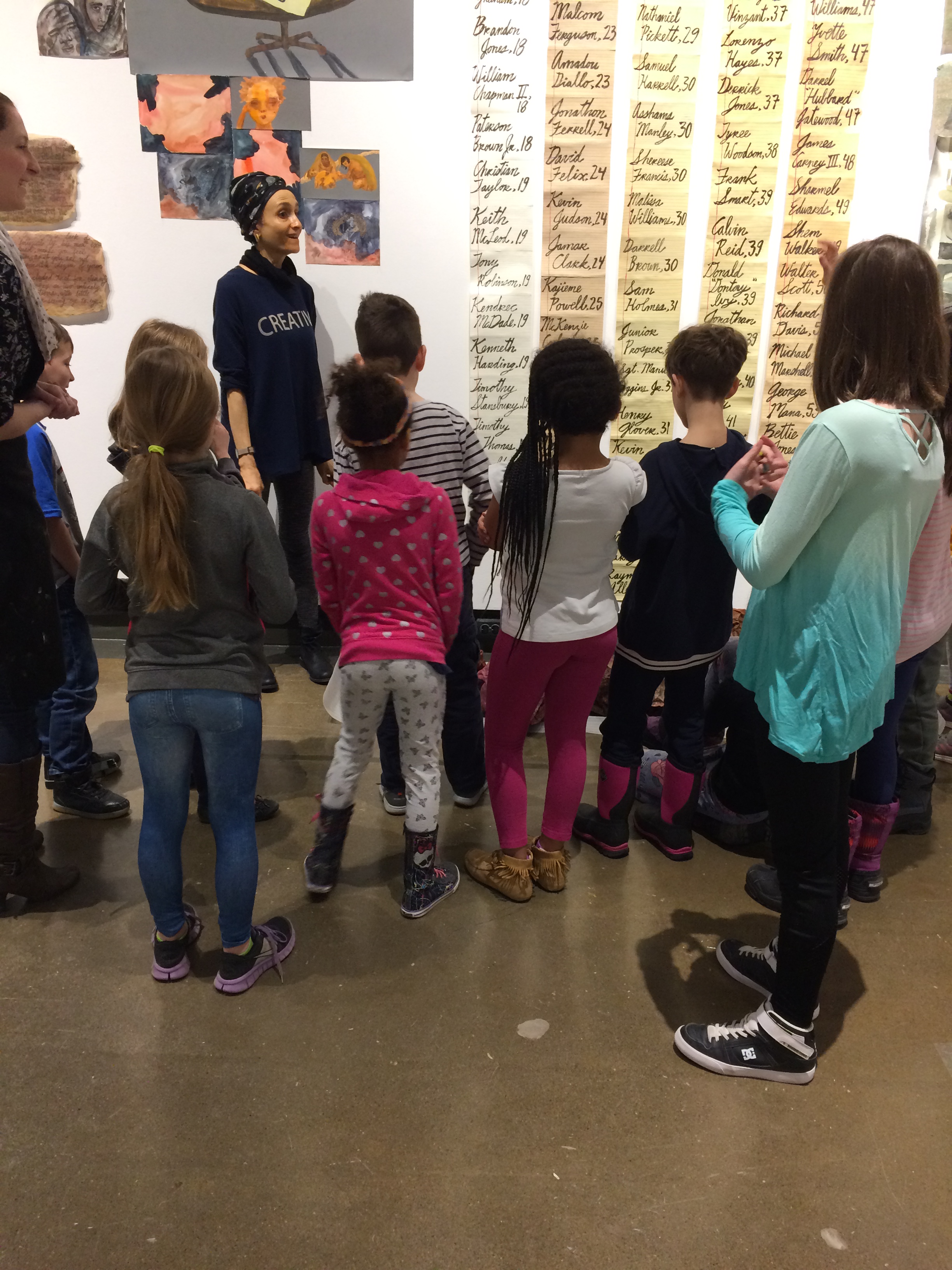 KWAG 2 GO: Single Classroom Visit
Discover one of KWAG's Permanent Collection works as our experienced Artist Educators lead your class through an active viewing exercise. Students will reinforce what they've learned through an art making activity and group interpretation of a second artwork from a current exhibition.
Content for each presentation is tied to grade-specific curriculum:
JK - Grade 1 Shape
Grade 2 Repetition and Rhythm
Grade 3 Variety
Grade 4 Emphasis
Grade 5 Proportion
Grade 6 Balance
Grade 7 Unity and Harmony
Grade 8 Movement
1 hour
$6 + HST per student / 15 participant minimum / 30 participant maximum
KWAG 2 GO: Three Part Program
Dig a little deeper into KWAG's current exhibitions with our three part program:
Part 1: Classroom Pre-Visit (1 hour)
During the pre-visit your students will discover one of KWAG's Permanent Collection works and take part in a related art making activity. Our Artist Educators will also prepare your students for their visit to the Gallery.
Part 2: Tour and Studio Workshop (2 hours)
Your students will explore the exhibitions at the Gallery and begin their own artwork inspired by their discoveries during the studio workshop.
Part 3: Classroom Post-Visit (1 hour)
Students will complete the artwork they started at the Gallery as well as revisit the themes and discussions from the previous two visits to extend their learning into new realms.
$14 + HST per student / 15 participant minimum / 30 participant maximum
Book Your Visit: Please fill out our Booking Request Form and return to Natalie McDonald, Education Coordinator, at nmcdonald@kwag.on.ca. The information you provide on this form will expedite the registration process and help us find the dates that work best for you and your students. Any questions regarding this form may also be directed to Natalie McDonald via email or by phone at 519-579-5860 x 219.
Frequently Asked Questions: Learn more about our booking policies and preparing for your school visit to KWAG on our FAQ page.
September 3rd, 2019 12:00 AM through June 30th, 2020 12:00 AM