Open Conversations | Saturday 12 December
A virtual panel discussion on accessibility in cultural institutions hosted by Aislinn Thomas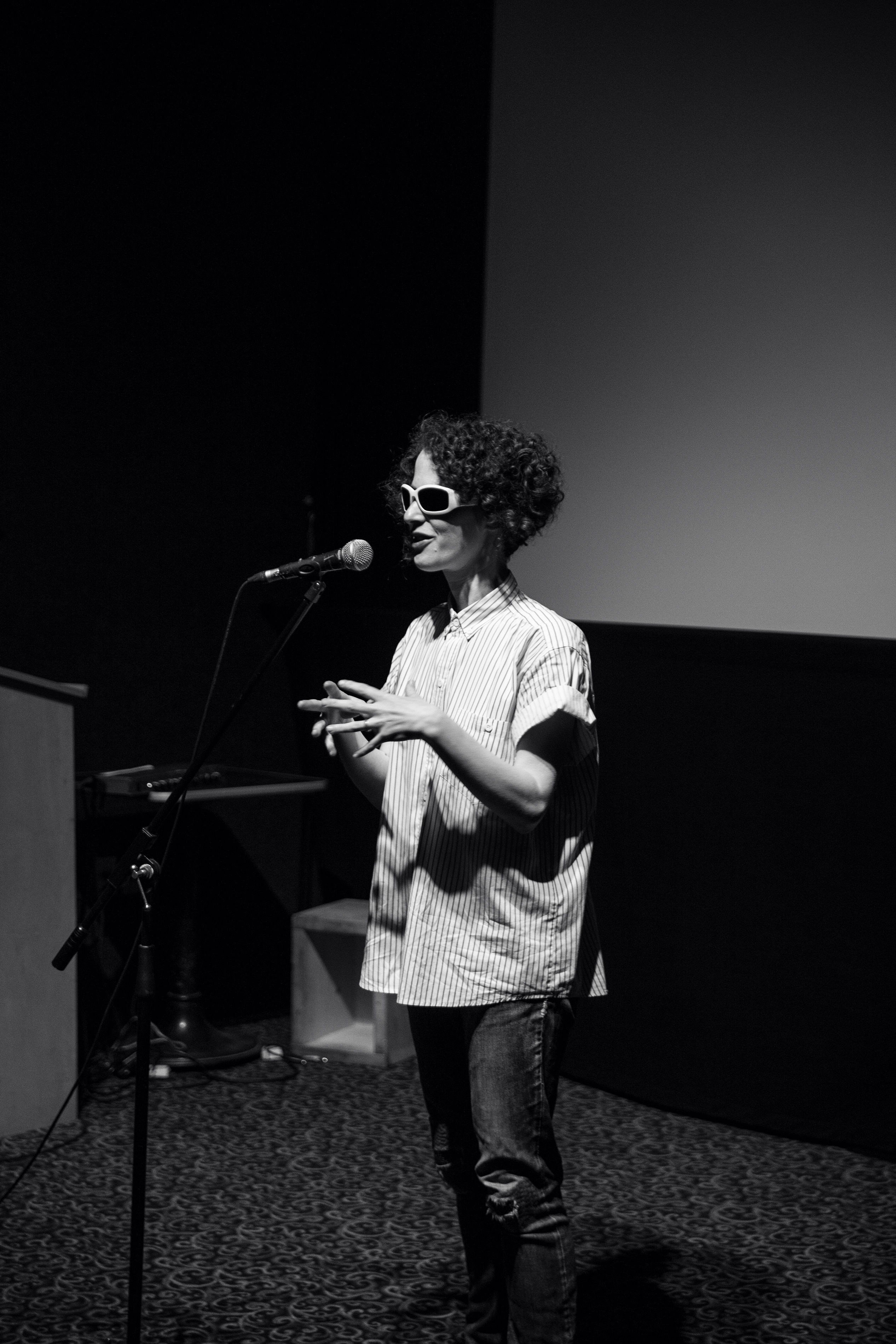 The next installment of KWAG's Open Conversations series is inspired by A piece of cloth, held taut, a series of experimental visual descriptions commissioned for KWAG's winter 2020 exhibition, The Myth of Consensus. Artist Aislinn Thomas, in conversation with Brock Richardson, Emily Cook, Kat Germain, and Ramya Amuthan, will discuss the topic of audio description and access within cultural institutions.
This virtual event will be hosted on Zoom. Please register in advance to participate using the following link: https://zoom.us/webinar/register/WN_AgWFWrfFTuKC_RDFv-R7vA
ASL interpretation and CART captioning for the event is provided by Canadian Hearing Services with support from the Kitchener Waterloo Community Foundation
Open Conversations are kindly supported by the Gamble Family

Aislinn Thomas is an interdisciplinary artist whose practice includes video, performance, sculpture, installation, and text. She culls material from everyday experiences and relationships, creating work that ranges from poignant to absurd, and at times straddling both. Her recent works explore the generative nature of disability while pushing up against conventional standards of access. Aislinn's recent exhibitions include Draft Systems WRO Media Arts Biennial in Wroclaw, Poland; TALK BACK at Flux Factory in Queens, New York; and A distinct aggregation / A dynamic equivalent / A generous ethic of invention: Six writers respond to six sculptures commissioned by the Walter Phillips Gallery at the Banff Centre for Arts and Creativity in Banff, AB.
Emily Cook is a visual artist, arts educator, and cultural administrator. She is the Education and Accessibility Coordinator at Critical Distance Centre for Curators. She studied printmaking at OCAD and holds and MFA from Louisiana State University. She runs Paperhouse Studio – an experimental studio rooted in paper as the medium – with Flora Shum. Her practice includes book arts, papermaking, printmaking and installation. She sits on the board of Tangled Arts + Disability. As an arts worker with low vision, she is has an interest in disability arts and crip culture. She believes art should be accessible to all. As a founding member of Paperhouse Outreach Collective, she works on arts and cultural initiatives that create meaningful opportunities for underrepresented artists. She lives in Toronto with a lovely roommate and lots of books.
Kat Germain is a dynamic artist on stage, screen and audio booth. Artistic modus operandi: authenticity. Uses acting as a petri dish; seeks to explore and understand the human condition from the inside out. Started writing to diversify acting roles, continue to hone skills and mine—in new ways—our collective consciousness and anomalies therein. Arts activist and advocate for increased diversity (both cultural and ability-based) in the performing arts. Trained Audio Describer, tying in to arts access, inclusion and voice work.
Ramya Amuthan is currently a Host and Producer at Accessible Media Inc (AMI). She works with the live afternoon show team for the daily entertainment and lifestyle audio show called Kelly and Company. Ramya's work involves meeting fascinating people, hearing their stories, and facilitating conversations that bring out the messages wanting to be told to the disability community around Canada. Ramya is also the Co-creator of Adventures, a chapter of the Canadian Council of the Blind, based in Toronto, offering and facilitating opportunities for blind and low vision individuals to challenge comfort zones and take part in daring physical activities. Ramya always makes time for hobbies; including singing – for herself and sometimes others, dancing – mostly Brazilian Zouk, and brushing up on her culinary skills.
Brock Richardson is a sports expert and a host of The Neutral Zone on AMI media. Brock's love for sports began 14 years ago when he became a Boccia competitor. He is a two-time Paralympian previously competing in Beijing in 2008 and London in 2012. Following his passion for broadcast, Brock is the station manager for Voices4Ability, an online radio station. In Brock's spare time he enjoys travelling and country music.
December 12th, 2020 1:30 PM through 3:00 PM
Download iCalendar entry for this event.
iCalendar feed for this event.