Stitch Journaling Workshop | Saturday 27 March
A free virtual workshop presented by Carly Leyburne as part of the From Behind the Mask community quilt project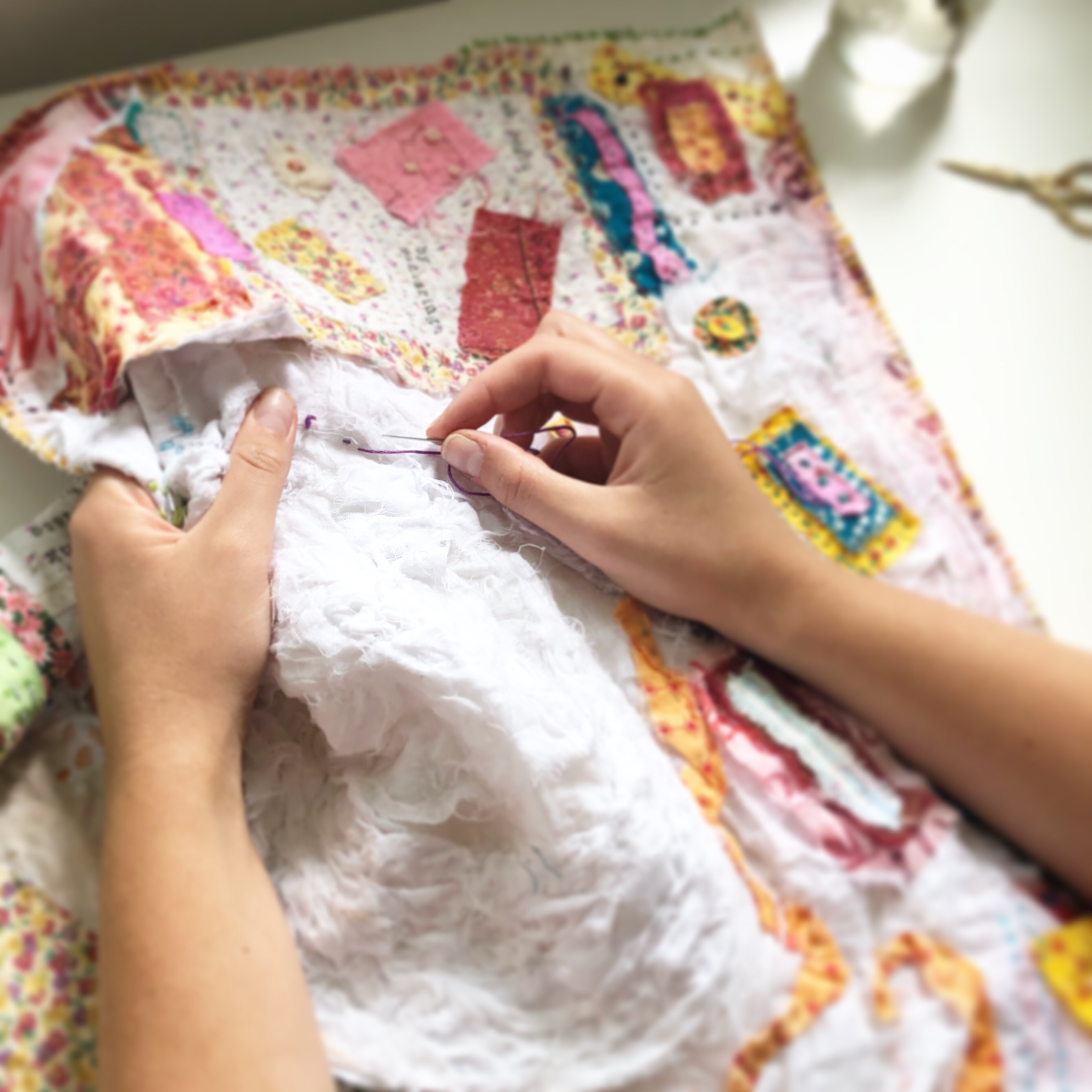 Learn a new textile technique that you can bring to your quilt block for the From Behind the Mask project! Join local artist and art therapist, Carly Leyburne, for an introduction to stitch journaling. This workshop is completely beginner-friendly and is suitable for kids, teens or adults. Folks of any skill level, whether they are avid embroiderers or have never sewn a button, will be able to benefit from this workshop.

A stitch journal can be many things; a place to practice or record new embroidery stitches, a means to experiment with creative ways of stitching (for example combining stitching with drawing), and a way to express and record complex feelings and experiences. Stitch journals can include words, pictures, and even objects.

In this workshop, Carly will introduce the group to the practice of a stitch journal, introducing materials and giving tips for threading the needle. They will lead the group through a mindfulness exercise, using the stitches in time with our breath to facilitate grounding, presence and to invite calm. All participants will start their own stitch journal, a practice they can bring to their quilt block!
A From Behind the Mask quilt block kit will be provided to each participant; this includes the base material for a quilt block that can be added to the community quilt, scrap fabrics, needle and thread, and yarn. These workshop kits will also contain an embroidery needle, an extra piece of fabric for the workshop and embroidery thread.
Please bring a drawing utensil with you to the workshop. If you have an embroidery hoop, that would also be useful - though not required.
Register by Thursday 18 March to receive your workshop kit in the mail. Participants registering after this date may pick up their kit at KWAG during our regular hours.
March 27th, 2021 2:00 PM through 3:00 PM
Download iCalendar entry for this event.
iCalendar feed for this event.