KWAG Film Series at KPL | Wednesday 4 March
Free film screenings relating to the themes in our current exhibitions held off-site at KPL Central Library
The KWAG Film Series is an opportunity to explore celebrated films that resonate with the themes of our current exhibitions through free screenings hosted by the Kitchener Public Library at the Central Library (85 Queen Street North). Admission is free, but please register in advance through KPL to book your seats in advance.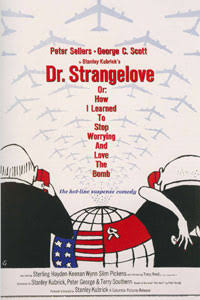 Wednesday 19 February: Dr. Strangelove or: How I Learned to Stop Worrying and Love the Bomb (Dir. Stanley Kubrick, 1964. 1 hr 34 min)
Only Kubrick would've dared to treat the prospect of mutually assured nuclear destruction as a laughing matter in the tense Cold War years, and he did exactly that in this daring, daffy geopolitical burlesque, which moves through Burpelson Air Force Base, the Pentagon War Room, and the cockpit of a B-52 carrying a perilous payload.
Register for Dr. Strangelove on KPL's website to reserve your seat.
Wednesday 4 March: My Kid Could Paint That (Dir. Amir Bar-Lev, 2007. 1 hr 22 min)
A four-year-old girl, whose paintings are compared to Kandinsky, Pollock and even Picasso, has sold $300,000 dollars worth of paintings. Is she a genius of abstract expressionism, a tiny charlatan or an exploited child whose parents have sold her out for the glare of the media and the lure of the almighty dollar?
Register for My Kid Could Paint That on KPL's website to reserve your seat.
March 4th, 2020 6:30 PM through 8:30 PM
85 Queen Street North




Kitchener

,

ON

N2H 2H1




Canada